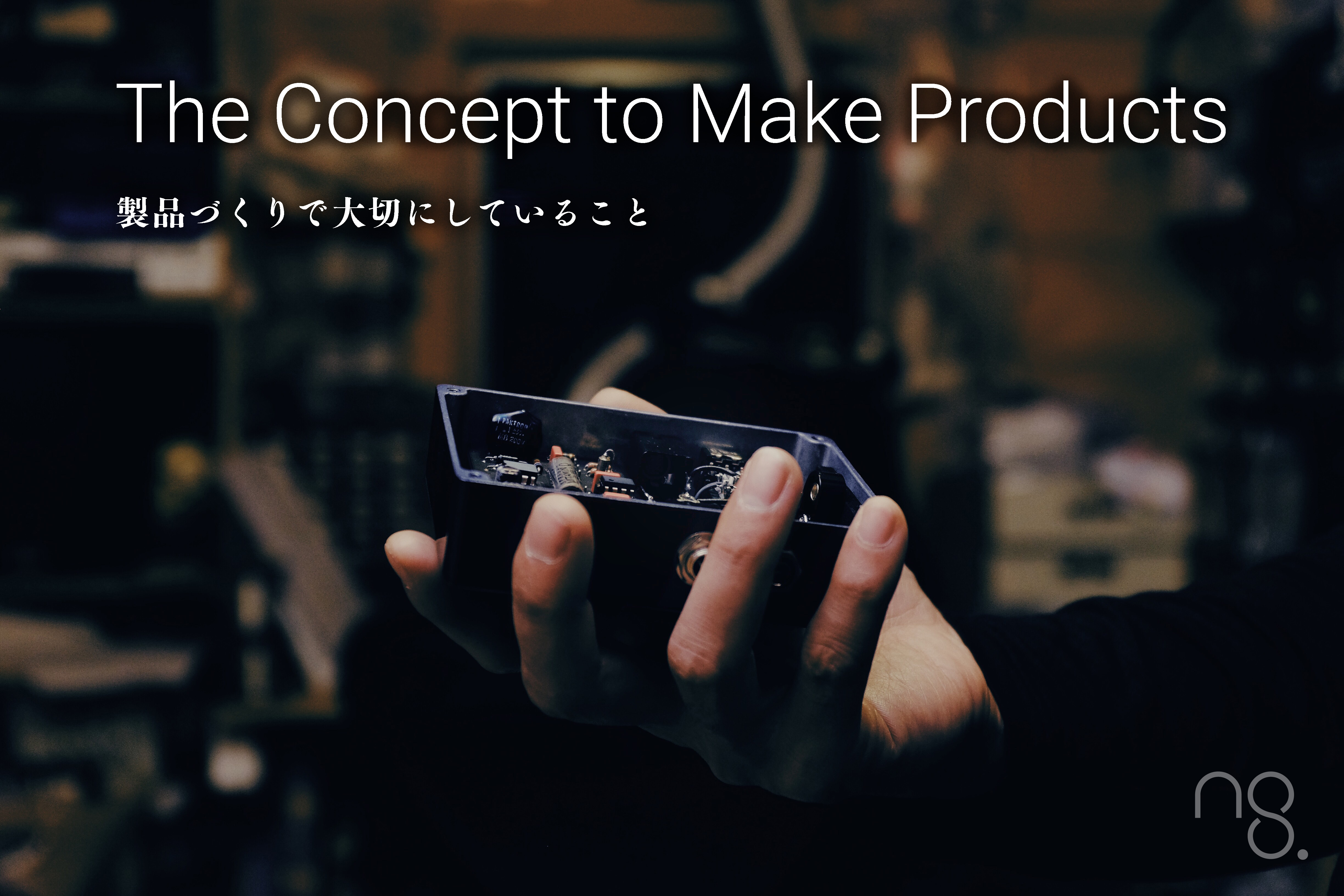 私が作っているのは手のひらに乗るほど小さなものに過ぎません。
けれど、どの製品もふたを開ければ必ず感じていただけると思います。
この筐体(きょうたい)に詰まっているのは、音楽のあらゆる技術者やプレイヤー達から受け継がせてもらった技術、知識、経験であり、日本のものづくりの職人から学ばせてもらった工夫、価値観の結晶です。
エレキギターはアンプにプラグインしてこそ音が出る。楽器になります。
楽器は演奏する者の意志、「声」を完璧に伝えられるものでなくてはなりません。
エレキギターにとってエフェクターは、プレイヤーの声を決定づけるための道具であり楽器です。それを作るビルダーは、音楽に携わる職人としてプレイヤーの欲する声を追い求め、具現化し、提案することで、世の中を刺激する役割を担っていると感じます。
筐体、線材、パーツ、すべてが音に影響します。何を選択したか、何を妥協したかの結果は音に如実に現れてしまう。加工しなきゃだめだけど加工のしすぎもだめ。そのさじ加減には経験や思い切り、センスが必要で、個々のビルダーの違いを生み出している部分でもあります。
私が重視しているのはヴィンテージパーツの扱い方。個々のクセを把握して、最も効果的なところに適したものを配置できるよう力を入れています。
誤解のないように伝えたいのは、ヴィンテージ品や値段の高いものがすべて良いわけではないし、現行品や安価なものが必ずしも良くないわけでもない、ということ。昔も今もパーツでもどんなものでも、良いものは良いしだめなものはだめ、それだけです。
道具としての「姿の美しさ」も大切にしています。
外観の加工精度が多少粗くても、はんだ付けが雑でも、電気的にはそれほど問題ありません。でも見た目がきれいなものは美しい音を出してくれそうな気がするから、少しでも加工精度を上げたいし、はんだは美しく処理したい。
製品の魅力やポテンシャルを最大限に引き出すためにも、ぱっと見て「きれいに作ってあるな」と感じてもらえるような外観、基板、作り込みを心がけています。
品質にどれだけ細心の注意を払っても、機械だから当然壊れることはあります。ユーザーの手に渡ってみて初めてわかる不具合もあります。そのたびに細かな改良を重ね続けてきました。
壊れやすいジャック、スイッチはとくに信頼性の高いメーカーのものを採用しており、パーツも信頼性を最重視して、少々割高になってもできるかぎり高耐久性、長寿命のものを選んでいます。
機材のトラブルが原因でプレイヤーの大切な演奏を止めてしまわないよう、エフェクターはタフな道具(ギア)でなければなりませんから。
私は不器用な人間なので、手間を惜しまず、当たり前のものを一生懸命作ることしかできません。
あなたの演奏を全力でバックアップさせていただきたいという気持ちと、人生を何度も救ってくれた音楽への敬意をこめて、すべての製品を送り出しています。
数あるエフェクターの選択肢の一つとしてぜひ店頭で触れていただければうれしいです。
そして、もしよければ足元に置いて、皆さんの聴衆のためにいい演奏をしていただけたなら……職人冥利に尽きます。
いいフレーズをどうぞたくさんの人に聞かせてあげてください。音楽は無条件にすてきなものですから。
 nature sound / Zahnrad
ビルダー 薫田 福雄
What I am creating is a small "Thing", you can hold it on your palm.
But, I strongly believe you can feel something right after you open the box.
In this box, it is filled with all the essence such as Technology, Knowledge, Experience, Know-How and concept of value. And they are not belonged to only myself.
They are the essence of Technology, Knowledge, and experience what I have inherited from technicians and players. Also, they are the blood sweat and tears of Know-How and concept of value what I have studied from master of experienced craftsman in Japan. 
Electric Guitar can finally make sound after plug in to amplifier. Then, it becomes music instrument. Music instrument must be conveyed player's will and "Voice" perfectly. For electric guitar, pedals are also tools and music instruments in order to finalize player's voice. 
Builders for creating pedals become the core of persons who inspire the music world with pursuing the player's voice, embodying, and presenting as the master of experienced craftsman.
Body, wires, parts, everything influences to the sound. The result what I selected, and what I compromised is most obvious to the sound. It should be modified, but too much modification is not good. 
For such balancing needs experience, decisiveness and sense, that makes difference of each pedal builder. 
What I am most experienced is taking care of vintage parts. Because I am experienced of vintage parts, I can select the best one to the best place effectively.
To tell you for not making misunderstanding, vintage parts or expensive ones are not always the best, and present parts or cheaper ones may not be the worst. 
Regardless in the past or at the present, not only parts or anything, the best is the best and the worst is the worst. That is all. 
Beautiful appearance is also important for gear. 
Even though the machining precision at external appearance is not so good, and soldering looks sloppy, these are not influenced electrically. But, I believe looks beautiful one makes beautiful sound, so I want to have high precision machining and to make finish soldering beautiful. 
In order to withdraw the maximum attractiveness and potential, I always keep in mind to create give someone a impression of "It makes beautiful" with appearance, circuit board and overall manufacturing.
For instance, I select fragile parts like Jack and Switch from highly reliable manufacturers, and also I put high priority to the reliability so to select high durability and long lifetime ones even though become expensive. 
My policy, it must avoid any kind of cost down for giving influence to the reliability of my pedal, which might stop playing because of its trouble. The core of my work is not enough to complete each pedal, but is supporting player's performance with do all I can. The pedal must be a tough gear.
For instance, master of hammer blacksmith, he produces it becomes a part of hand of carpenter. And, that master of carpenter builds better house for his precious owner withdrawing the full hammer performance, don't you think?
Me too. I produce my pedal useful to your play, and I am willing to entrust my pedal to players with my best wish "I want to back up your performance with do all I can".
It is you, actually playing and feeling my pedal, who making final decision whether my pedal can or cannot be useful.
I must be facing seriously to anything of music, because I have been saved by music many times in my life. I cannot show you another way of my respect and affection to music except like this one. 
I may sound superior, but I am facing each one by one honestly, and I obviously should produce my pedal with my blood sweat and tears that are obvious.
It is my pleasure if you would have a chance to select and try my pedal, because I produce it can withstand of your evaluation as the one of the best pedal from among of stars. And I sincerely wish if you could play with my pedal and play the best performance to your audience, —— I, as one of a master of pedal craftsman, feel more blessing than I deserve. 
Please let everyone to hear your fabulous phrase.
Music is wonderful unquestioningly.
nature sound / Zahnrad
Fukuo KUNDA